Latvian National Cultural Centre, in cooperation with THE UNESCO Cathedral of the Latvian Academy of Culture, calls for the "intangible cultural heritage and sustainable economic development in Latvian historical lands" On 8 November 2022, from 14.00 to 16.30 
It will be possible to learn about some national and international instruments designed to support the preservation of intangible cultural heritage and the economic development of local communities. It will be possible to find out what is supported by the National Cultural Capital Fund (CKF) and LEADER programmes and how the specific European Union registers protect local foods and whether in the future such registers could also cover artisanal products.
The vebinary is organized within THE framework of THE LIVIND cooperation project "creative living heritage as a resource for the northern dimension region" and will be able to hear the views of THE CKF, the Ministry of Agriculture and the Latvian Culture Academy (LKA) UNESCO Intangible Cultural Heritage Policy and Rights Cathedral, as well as the experience stories from Latvia.
If you want to receive a certificate of participation in a seminar, register by 6 November here!
Participation in the vebinary is free and accessible to anyone. We invite both non-governmental organisations, heritage masters and teachers, teachers, researchers, municipal and public institutions, cultural houses, museums and libraries and all interested in intangible cultural heritage!
---
WEBINAR PROGRAM
Intangible cultural heritage and sustainable economic development in Latvian historical lands
November 8, 2022
at 14.00 – 16.30
| | |
| --- | --- |
| 14.00 –14.10 | Discovery of the Webinar | Agnese Karlsone, Latvian National Cultural Centre (LNKC) |
| 14.10 –14.25 | * Support for the preservation and sustainable development of historical land and intangible cultural heritageVKF programmes in support of intangible cultural heritage | Linda Karlina, VKKF, and Gita Lancere, LNKC |
| 14.25 –14.40 | Options provided BY LEADER in the programming period from 2023 to 2027 | Andra Karlsone, Rural Development Support Department of the Ministry of Agriculture, Rural Development Fund Support Division |
| 14.40 –14.55 | The story of the experience. Implementation of projects with VKKF, LEADER and other funding support | Sandra Lipska, Company "Slime", Krape |
| 14.55 –15.15 | Questions and answers/discussion |
| | * Instruments for the protection and visibility of products associated with intangible cultural heritage |
| 15.15 –15.30 | Products with a story in European Union protected registers. Participation of producers in food quality schemes | Ginta Dzerkale, Veterinary and Food Department of the Ministry of Agriculture, Biotechnology and Quality Division |
| 15.30 –15.45 | The story of the experience. Traditional speciality guaranteed - Scannabis | Jennet Marinska, farm "Water", Kolka |
| 15.45 –16.00 | Perspective of the European Union Geographical Indication - crafts - Anita Vaivade, LKA UNESCO intangible cultural heritage policy and law |
| 16.00 –16.25 | Questions and answers/discussion |
| 16.25 –16.30 | Final |
---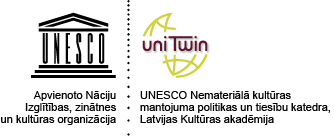 LKA post-doctoral research project "intangible cultural heritage as a resource for sustainable development in Northern Europe: a law-based approach" (1.1.1.2/VIAA/3/19/476)